Situated in One Hyde Park in London, it costs approximately $ 221 million. Ukrainian oligarch's mansion is number six amongst top 10 of the most expensive private houses in the world, according to the Forbes, while Mr. Akhmetov's total estate makes about $ 11,8 billion.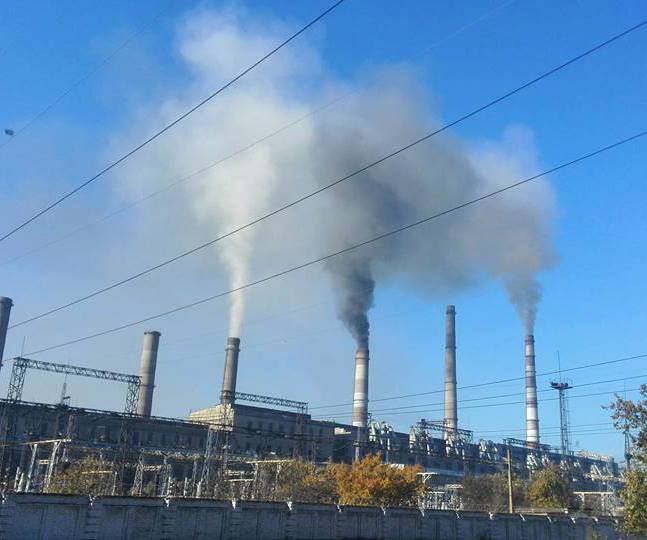 And this is the DTEK Prydniprovska Thermal Power Plant, situated in Dnipro city, Eastern Ukraine. Maybe the eldest in Europe, it is one of the sources of Mr. Akhmetov's fortune.
Though monopolies are forbidden in Ukraine and the Antimonopoly Committee exists, in fact, Mr. Akhmetov's System Capital Management group is an energetic monopolist. The energetic branch of SCM is a vertical holding that mines coal, sells it to the thermal power plants which produce electricity, and then sells the electric power to the energy market. Speaking of the DTEK Prydniprovska TPP, it's not only electric power but also heating of 20% Dnipro city households.
That is the factor that gives the DTEK Prydniprovska power plant an upper hand in the tag-of-war with city authorities. Environmental damage caused by the power plant became Casus belli in Dnipro. Activists want DTEK Prydniprovska power plant to cease the air pollution. Power plant blackmails the city with the cease of hot-water supply. "Stop pressing on us or else we shut the station down and you will have neither power nor heat," say station management to activists.
How bad is the pollution? Iryna Chernysh, the prominent civil activist of Dnipro, states that particulate emissions of DTEK Prydniprovska TPP surpass European ambient air standards more than 20 times: the standard is 50 mcg per m3, and 120 mcg per m3 considered to be dangerous. Prydniprovska emits 1300 mcg per m3 and claims it is normal rate and wants to get a permission from the Ministry of the environment to proceed the emissions until 2033. How many people get sick and die until that date?
Iryna Chernysh became an eco-activist two years ago. She and her family live in Prydniprovsk, former Dnipro suburbs, now included in city limits along with nearby village Chapli. The thermal power plant is situated there, not far from Irina's home. Every day Irina sees gray and black clouds from power plant's chimneys. Smog shrouds Prydniprovsk and crawls across the Dnipro river to the city center and the tightly inhabited districts Pobeda, Sokol, and Topol. According to air pollution map on the breezometer.com, the rate of CO in Dnipro is 269.92 ppb, PM10 – 43.09 ug/m3, PM2.5 – 38.8 ug/m3, SO2 – 17.6 ppb. Dnipro citizens are advised to cease their outdoor activity, but they must make a living. They got used to ignore the level of pollution, to get over the wheezing illnesses and to comfort themselves with the sad joke about a guy who survived a gas chamber because he was from Dnipro.
Iryna started the campaign against air pollution. "Local politicians, statesmen and the city government did nothing; they don't have any power over Akhmetov's facility and don't have a political will to claim it, so I had to step forth. I am an idealist, I do believe that even one person can make a difference. Our main weapon is information. They feed us with manipulative half-truths, like that one about gas-coals they use now."
Indeed, 7th and 8th generator units of the Prydniprovska were recently re-equipped to use gas-coals. The reason was rather political: Prydniprovska is short of anthracite since the beginning of trade blockade in Separate districts of Donetsk and Luhansk regions. Environmental problems never interested the TPP managers. The spokesperson of Kotloturboprom (the agency that reequipped two abovementioned generator units) stated clearly that they were not encharged with any task of filters installing. The power plant managers state that there is no need for filters, for gas-coals are better for the environment than anthracite. Why it's so hard to believe them?
Not only air is severely polluted by the power plant. Every well in Prydniprovsk and Chapli is poisoned with mud coal. Shyanka river, Dnipro river inflow, is destroyed and turned into a poisoned bayou. The nearby quarry is filled with mud coal and its dust is spread by wind everywhere around.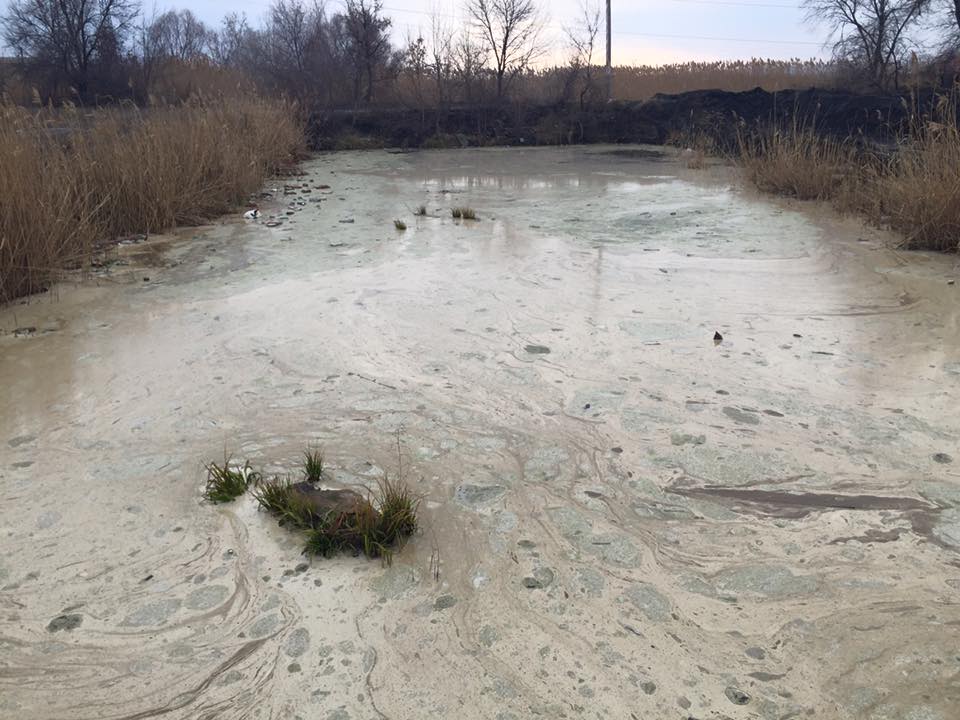 Iryna Chernysh and other civil activists demand several simple things. First, Prydniprovska must install modern purification equipment on every power unit. For now, only 11th and 9th power units are equipped with electric filters, and, for some unknown reason, they are the least used. Second, Prydniprovska must provide outcome monitoring of emissions. Third, it must keep gas-coal mud apart from anthracite-coal mud or the reasons for recycling. Fourth, the station must cease the water pollution. Fifth, the station must recultivate the ground used for waste storage, 379 acres altogether.
All these measures were covered by the recent permission given to Prydniprovska Power plant by the Ministry of ecology. And none of them is executed or even planned to be. "We are short of money," power plant spokespersons explain. "We are not even a legal entity, we are a part of the holding and we do as we are ordered".
With help of a member of parliament, Serhiy Leshchenko, Iryna had met with Ostap Semerak, minister of ecology. He firmly stated that no permission will be given to Prydniprovska until they fulfill the demands of eco-activists, but it never got to the first base. Prydniprovska's chimneys still spew soot and sulfur into citizens' lungs.
How did it happen that one of the richest people on Earth lacks money to install filters on his property? Other shareholders of SCM are fare from being beggars, too. They gain from Prydniprovska, so they must make amends for the damage it caused. It would be only fair.
Brilova Olha, Dnipro